The 9th A4M Thailand Congress on Anti-Aging and Aesthetic Medicine 2017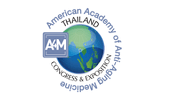 Date: 7-9 September 2017
Topic: Saliva hormone testing for adrenal fatigue and Gut Brain Axis
Organisation: A4M Thailand
Session:  Two Sessions 09:20 – 09:45 and 16:10 – 16:35
Venue: Centara Bangkok Convention Centre Central World 999/99 Rama 1 Road, Pathumwan, Bangkok 10330, Thailand
Invitation from: Dr. Patana Teng-Umnuay and Nutripath Pathology
Details Online: https://www.a4m.com/10th-annual-a4m-thailand-conference.html
Saliva Hormone Testing for Adrenal Fatigue
Chronic stress and adrenal exhaustion are some of the most common presentations in clinical practice today. Fatigue, insomnia, weakness, hormone imbalance, moodiness, weight gain, immune dysfunction, bone loss and low libido are all linked to weak adrenals. The adrenal gland is the home of the fight or flight stress response and works in synergy with the thyroid hormones for energy and weight regulation.
The relationship to stress and high cortisol levels can disrupt the effective communication and collaborative hormonal functions of the adrenal, thyroid, and reproductive glands and exacerbate imbalances in the neurotransmitter systems and the valuable microbiome.
In this presentation, you will learn
What is "adrenal fatigue" or "adrenal burnout"
Cortisol awakening Response (CAR)
Explore the multidirectional influences of adrenal function on the physiology
How to assess adrenal function, which test is best
The value of saliva adrenal testing to establish stages of adrenal dysfunction
Listening for signs and symptoms of adrenal fatigue
Comprehensive treatment protocol for HPA support
Building a practice orientated toward HPA dysfunction and stress related illnesses. With these tools firmly in hand, you will also be guided on how to package and present yourself as an expert in this field.
The Gut-Brain Axis
We are not just human cells, we are trillions of bacterial cells. Bacteria often get a bad rap and are associated with dirtiness and disease. However, many bacteria are necessary for humans to thrive. The genetic information contained in these bacterial communities has identified protein-coding genes in our DNA and the birth of The Human Microbiome Project (HMP).
The strategy is to understand the microbial components of the human genetic and metabolic landscape and how they contribute to normal physiology and predisposition to disease. The 8 million genes in the bacterial communities of the human gut bacteria are dynamic and fluid varying in number and diversity.
Live organism management with microbiome alteration and probiotic support health benefits on the host by altering the gut microbiome and subsequent mental health outcomes. These probiotics that can affect the brain and thus mood are called psychobiotics.
Abnormal numbers of microorganisms in the gastrointestinal tract are often present in virtually every type of neurological and behavioural disorder including depression, OCD, and schizophrenia. Autoimmunity to brain proteins induced by cross-reactive antibodies against Streptococcus bacteria has been implicated as a significant factor in Tourette's syndrome, tic disorders, OCD, autism, and eating disorders.
In this presentation, you will learn:
Pathophysiology of the gut and brain connectedness
Testing of the microbiome and mental health
Evidence base for unique clinical insights into treatment options
Functional, comprehensible and impactful model of putting it together in a clinical setting
The role of neuro-inflammation, dysbiosis, and the gut-brain axis
Workshop
Cardiovascular Health, Stress and neurotransmitter Imbalances
Clinical and practical application of advancements in assessments, genetics, and natural treatment approaches.