Alchemy of the Mind by Vanita Dahia
Alchemy of the Mind offers an engaging and informative look into your thoughts, emotions, feelings and memory. Whether you suffer from stress, anxiety, depression or addictions, one pill may not be the solution. Change your brain with simple nutritional supplementation using self-help tools in this book and manage your mind naturally.
Vanita reveals how to achieve happiness through balance of chemicals that connects the brain with the gut, stress, cravings, addictions, and libido. You biology is in your biochemistry. Testing of brain chemistry with functional pathology maps out a pathway to a targeted natural support for the nervous system.
Free Audio Precis
Download your free audio precis of Vanita Dahia's 'Alchemy of the Mind' book today!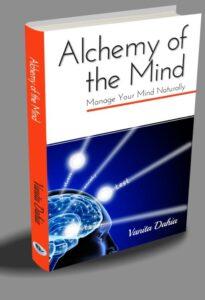 Alchemy of the Mind explains
The play of brain chemistries in mood, stress, anxiety and depression.

How neurotransmitters, diet and nutrient depletions affect the gut, adrenal fatigue, thyroid and mental health.

How toxic exposure, genetics and environmental pollutants impact on mood.

How to assess, interpret and manage neurotransmitters naturally with self-assessment questionnaires and functional pathology lab testing.
Get your copy of Alchemy of the Mind today!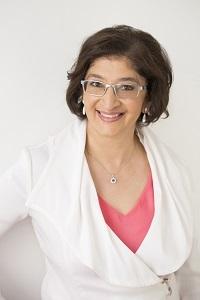 About the Author – Vanita Dahia
As a board-certified fellow in anti-aging and regenerative medicine, my mantra became 'your biography is in your biology'. Integrative medicine is a science of blending conventional with complementary medicines using validated assessment tools and evidence-based targeted treatment approaches. It incorporates optimising diet, lifestyle and exercise interventions with a holistic approach. It aims to embrace physical, psychological, social and spiritual well-being. She has more than 30 years expertise in compounding pharmacy, R&D in innovative formulary, herbal medicine and integrative medicine.
She incorporates her technical consultancy with pharmaceutical compounding knowledge together with herbalism, homoeopathy, Ayurveda medicine and energy medicine like pranayama & meditation to achieve the best health outcome.
Vanita received her training in anti-aging medicine through association and membership with the American Academy of Anti-Aging Medicine (A4M and A5M) and Professional Compounding Centres of America and Australia (PCCA).
"Written in clear jargon-free language, this concise volume offers an excellent guide to scientifically based alternative or complimentary treatment of high prevalence common mental health illnesses, suitable for the lay person and the informed practitioner alike. It is written by a Compounding Pharmacist with an extensive track record in clinical practice, research, teaching and advocacy of alternative therapies in the mental health field."
"To live a life in which we express our emotions in the most balanced and harmonious of ways requires a sophisticated GPS system of the mind/body connection. Alchemy of the Mind is such a comprehensive guide, easily and effortlessly directing us to live not only an emotionally enriched life but a life that optimises our greatest intelligence. Everyone would benefit from reading and learning from this wonderful book."
"Alchemy of mind is a comprehensive master piece which cover complex area of mind and related psychopathology in a easy read format along with practical strategies to intervene."
"This is absolutely one of the best books on Brain Health that you can buy. I have read a lot of material related to brain health, but here is the one book that sets everything out as succinctly as possible in a comprehensive and easy to read manner. It is definitely something I would give to everyone I care about. Incredibly informative book. If you value your health, you have to read this book. Strongly recommended!"