Metabolic and Biochemical Disruptions in Mental Health at Sukul Institute of Homoeopathic Research
Date: 19 January 2021
Topic: Metabolic and Biochemical Disruptions in Mental Health
Organisation: Sukul Institute of Homoeopathic Research
Session: 3.30pm – 4.00pm
Venue: Online
Invitation from: Anirban Sukul, Sukul Institute of Homeopathic Research
Sponsored by: Vanita Dahia ( Voluntary)
Registration: Sukul Institute of Homeopathic Research
Program: https://vanitadahia.com/files/resources/sukul-institute-of-homoeopathic-research-program.pdf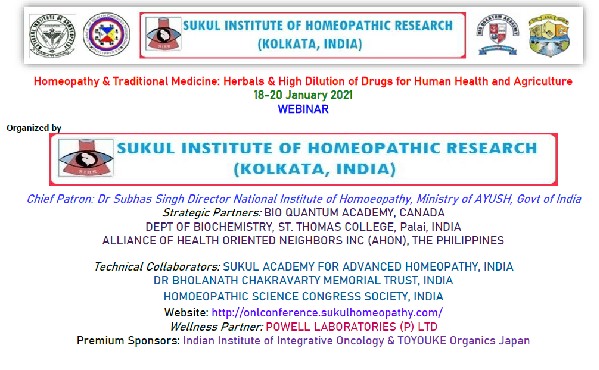 Mental Health, neuro-chemistry and neuroplasticity have become burgeoning markets in an integrative practice today perhaps due to greater public awareness of mental health concerns or the innovative science behind neuro-transmission pathways, nutrient and genetic constructs. In the neurological system, hormones, adrenals, nutrients and genetics are synergistic with neurotransmitters – modulating their production, signalling and metabolism. Because of this complex interplay, testing the clinical triggers and neurotransmitters together is the ideal way to generate a more precise assessment.
Functional assessments give practitioners a more thorough evaluation of the systems that interact to govern key facets of mental health including mood, stress, anxiety, memory, and depression. The lab variants will offer a diagnostic edge allowing for zeroing on targeted therapies best suited for your patient.
In this webinar, you will get a broad overview of functional assessments in mental health with attention to key markers in interpretation and treatment strategies.
Prioritisation of mental health assessments in the context of 2 case studies will include:
• Adrenal function
• Neurotransmitters
• Genetics
• Nutrient imbalances – Pfeiffer protocol
• Histamine
• Pyrroles
• Amino acids
• Toxicants
• Pollutants
Learning outcomes – Vanita will reveal:
• Functional medicine role in mental health
• Prioritisation of pathology in mental health disorders
• Understanding metabolic and biochemical markers in pathology testing
• The role of nutrients in restoration of brain biochemistry
• Putting brain chemistry into perspective in a clinical practice